Lighting the way: Community candlight march draws hundreds to promote tolerance and diversity
by Emily Gerston '11
NEWS EDITOR
After three reported bias incidents in less than two months at school, the Hamilton community has had enough. Following the vandalization of the Muslim prayer room in the Chapel, the Bias Incident Response Team (BIRT) and Muslim Student Association (MSA) organized a candlelight march to support diversity. More than 300 students attended the march last night, marching in a line that started at the Chapel and spread nearly all the way to the Kirner-Johnson building, culminating in a screening of the documentary "The Anatomy of Hate."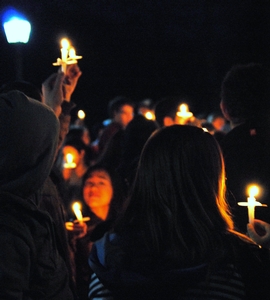 Associate Dean of Students for Diversity and Accessibility Allen Harrison, who helped to plan the march and whose office sponsored the film screening, said his goal for the march was to bring "a sense of solidarity and support from the entire community for individuals to openly and freely express themselves religiously without reason for fear or intolerance."
To kick off the march, Dean of Students Nancy Thompson and President Joan Hinde Stewart spoke briefly about the purpose and significance of the march. Stewart said that by attending the march, the community said "we understand… we also must speak out at speech that is deeply offensive to us."
"Our students in this community rise to the occasion and do the right thing," added Thompson. "I think we're saying a lot just by being here."
That's why Amanda Tarnate '11 attended the march. "There have been a lot of people not thinking about their actions, not really respecting another people," she said. "The vigil is a good way to counteract some of that."
For Billy Wieczorek '11, the march represented a unifying factor that the campus had been missing. "I really feel, especially in the last couple of years, there's been a lot of stuff where certain people have been upset, but nothing that's really energized the entire campus," he said.
"Think about how many other times at Hamilton you've really been with this many other people for a cause."
The event even drew people from the surrounding community including Simon Stanco and Adam Bankert, who are juniors at Clinton Central School. Stanco heard about the event while attending a seminar taught by Sidney Wertimer Associate Professor of Philosophy Marianne Janack and was encouraged by a teacher at his high school to make signs and attend the march by a teacher at his high school. Bankert heard about the march from Stanco, and said, "I felt like it was the right thing to do, to come up here and show our support."
The march culminated outside of KJ before the film screening with hundreds of students holding candles singing "Amazing Grace." When the march started to disperse, Michael Bethany '11 stood and gave an unannounced speech encouraging community members to respect each other in the face of hate.
Filmmaker Mike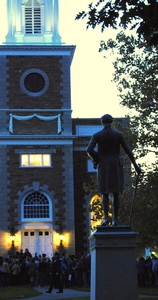 Ramsdell, who produced, directed and edited "The Anatomy of Hate," attended the march before the screening as well. "I was not aware of the march planned for tonight, and I think it's awesome," he said. "This is fantastic. You have around 300 people, and they're here to actually demonstrate in a way that is peaceful and unified – not so much antithesis to the Westboro Baptist Church, but your own personal thesis."
Ramsdell's film analyzes how people can find tolerance and peace amidst a world populated with hate groups and hate crimes. The screening was planned far in advance of any of this year's reported bias incidents, but Ramsdell felt it was appropriate to open dialogue encouraging tolerance and acceptance. "The film never set out to say these are answers, but it certainly set out to say this is a place to start," he said.
The march could have had a dramatically different feeling if the Westboro Baptist Church (WBC), a hate group which has made headlines (and a Supreme Court case) for protesting homosexuality at military funerals, had protested the film's screening at Hamilton, as their picket schedule indicated they would. Campus Safety set aside a cordoned-off area for protesters to picket, but no one appeared to publicly oppose the film or the march.
A separate counter-protest to the WBC was organized, but many people chose to use the march as a counter-protest. "A lot of people thought it would be better to ignore them [in case they showed up], but I thought it couldn't go unbalanced without a show of love and peace," said Becca Ross '14.
Tarnate was pleased with the turnout at the march, but attributed much of the attendence to people wanting to protest the WBC. "It's unfortunate that we needed the threat of something so hateful to unify the campus and bring everyone out," she said.
Although the specific incident that sparked the march was an anti-Muslim attack, the goal of the march was inclusiveness. Alia Rehman '11, who is president of the MSA, said, "The march is not just to support the Muslim students; it is to show support for all religions present on campus. I hope that this march will send the message that there are all different religions on this campus, and that as a community here at Hamilton, we support one another."
Madeleine Lopez, Consulting Director of the Cultural Education Center and Lecturer in Education, agreed. "I think it's a great thing that community is coming out in large to really support what was at first an act of bias against one sub-community, but has come to everyone," she said. "It speaks to how goodwilled the Hamilton community is. We're here to promote diverse views and experiences, and do it with respect."
The three reported bias incidents this year are a significant jump from past years, but Thompson cautioned against jumping to conclusions about the increase. "We've also instituted this new reporting method, and the BIRT, so it's unclear to me whether there's more happening or whether there's more being reported," she said. "But in any case it's been a busy fall."
The march and movie screening are steps to increasing awareness and tolerance at Hamilton, but Rehman felt more is necessary. "I feel that all bias incidents in general unfortunately stem from ignorance and a lack of education, whether it be about a religion or specific issue or matter," said Rehman. "I think awareness and knowledge are the key ingredients to decrease any fear that people may have and to just help others better understand an issue. We just want to help spread awareness about these types of bias incidents in hope that future ones will not occur." To help her mission of decreasing fear and intolerance, Rehman extended an invitation for members of the Hamilton community to attend an MSA meeting or to contact her with questions.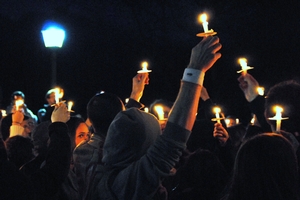 Both Harrison and Thompson stressed that the perpetrators of bias incidents do not represent the views of the campus at large. "In general, I am certain that the vast majority within our community is welcoming, tolerant and subscribe to the tenets of inclusion," said Harrison. "[However,] we are not exempt from having such incidents occur. What is most important is how we as a community seek to educate one another daily about difference and how we respond to these incidents when they occur."
"I believe these incidents are perpetrated by individuals within a community that doesn't support and would never condone these activities, and so I see these events as an opportunity for us to reinforce our community support for all of the people and voices on our campus," said Thompson. "The fact that they happened doesn't mean that this is a bad place. It's a good place where we need to make sure that the majority voices [of tolerance] overwhelm those few that demean us."
---